Kian Finance Authority's November Tax Conference
When navigating the intricate landscape of tax regulations, knowledge is power. Join us at Kian Finance Authority's November Tax Conference, where we combine our tax strategies, accounting, and financial management expertise to empower you with the latest insights and best practices.
Join us for the 2023 AFSP tax conference at the Bahia Mar Hotel from November 17 to 20. Early birds, register by October 10 and enjoy a special 10% discount. Take advantage of this opportunity to enhance your tax knowledge and expertise.
Kian Finance Authority: Your Partner in Tax Preparation and Financial Consultation
At Kian Finance Authority, we're dedicated to your success. As your top tax preparation service and financial consultation provider in Hollywood, FL, we understand that staying informed and up-to-date is crucial in the ever-changing world of taxation.
Enrolled Agent Workshop – Tax Topics
Prepare for the Enrolled Agent Exam with our comprehensive workshop series:
September 25: Enrolled Agent Exam Prep: SEE Part I

October 4-5: Individual Tax: Enrolled Agent Exam Prep: SEE Part II

October 11-12: Business Tax: Enrolled Agent Exam Prep: SEE Part III

October 13: Representation
Enroll now to secure your spot and boost your tax expertise.
What We Offer
Training & Workshops:

Our workshops cover taxation, bookkeeping, and QuickBooks, ensuring you have the skills to excel in your tax career.

Annual Federal Tax Refresher Course:

Stay updated with the latest tax regulations and changes with our refresher course.

Study Guides and Books:

Access valuable resources to enhance tax knowledge and preparation.
Our Core Services
At Kian Finance Authority, we provide you with personalized and professional services. Our client retention rate speaks to the quality of our work and our commitment to your success.
Feel free to explore our website to discover the services we offer and the helpful resources we provide. When you're ready to take the next step in your tax journey, don't hesitate to contact us.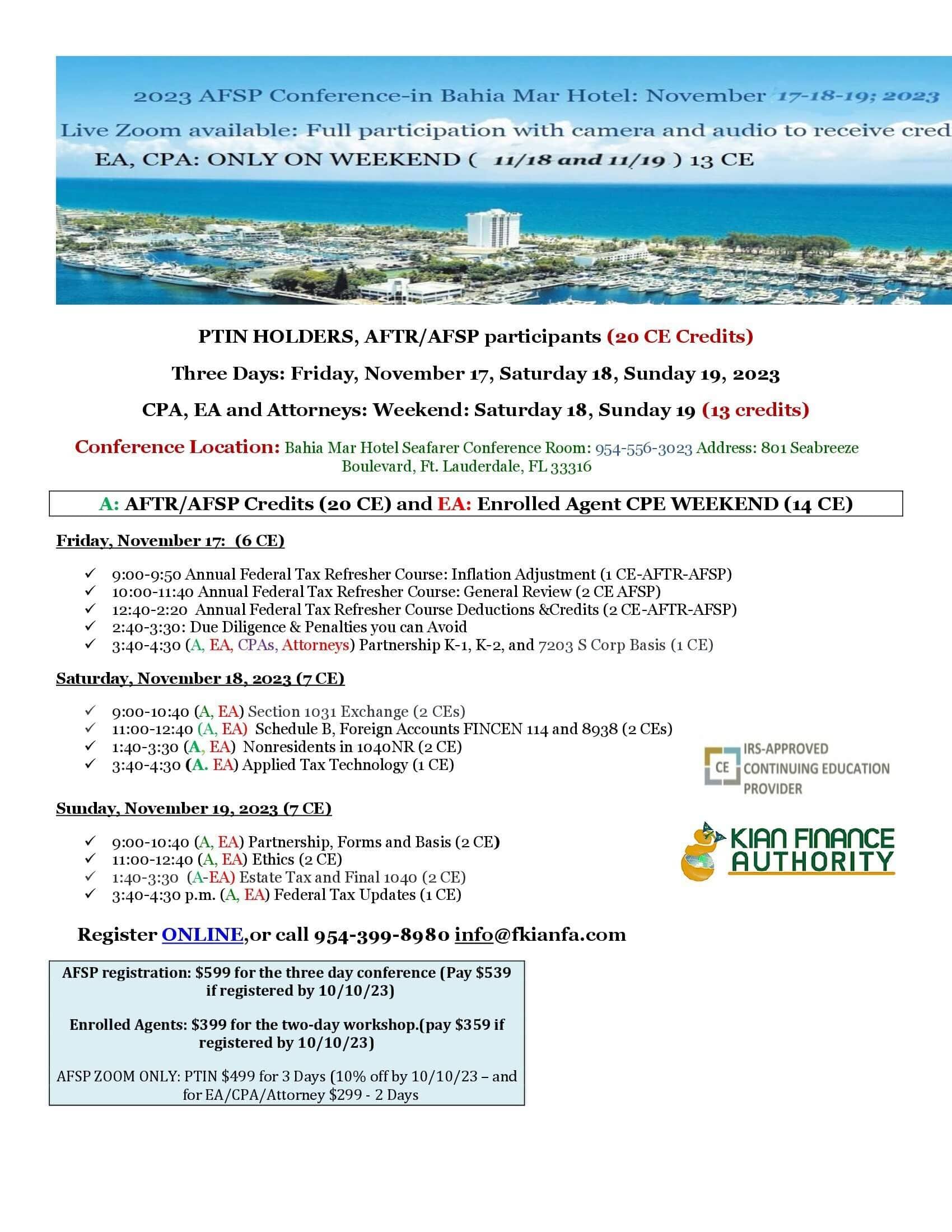 Join Us at the November Tax Conference!
Take advantage of the opportunity to join us at the November Tax Conference. Stay updated, connect with experts, and enhance your tax expertise. The knowledge gained here will empower your tax journey.
What to Expect
Expert Insights: Gain valuable insights into the ever-evolving world of tax regulations. Our tax conference sessions are designed to provide you with the latest information and strategies to navigate the complex tax landscape effectively.

Networking Opportunities: Connect with fellow professionals, experts, and thought leaders in taxation. Share experiences, exchange ideas, and build valuable connections.

Practical Workshops: Participate in practical workshops led by industry experts. These sessions provide hands-on experience and actionable takeaways that you can implement in your tax and financial strategies.

Q&A Sessions: Have your pressing tax-related questions answered by our panel of experts. Get clarity on specific challenges your business or organization may be facing.

In-Depth Discussions: Engage in in-depth discussions about tax planning, compliance, and optimization. Stay ahead of the curve where tax strategies align with your financial goals.
Conclusion
Kian Finance Authority's November Tax Conference allows you to stay informed, network with peers, and enhance your understanding of tax strategies. 
Whether you're a seasoned tax professional or just starting to explore the intricacies of taxation, our conference provides valuable insights so you can navigate the complexities of the tax world effectively.
Join us for a knowledge-packed event to empower your tax and financial strategies.
Follow Me on Facebook for Tax Updates